Making a movie for Ajith and Vijay must feel like balancing on a tightrope while wearing nothing but your shoes, don't you think? In Thunivu, his third collaboration with Ajith Kumar, H Vinoth manages to walk a fine line between letting Ajith do what he does best and telling a taut story about corruption in his signature style. It mostly works thanks to the narrative's focus on just two notes. The most well-known actor in Tamil cinema is Ajith Kumar. He is renowned as a superb actor. His standing in the Tamil film business is very high.

In 2023, the Pongal holiday saw the release of the Ajith Kumar film Thunivu. Fans of the actor and Tamil cinema, in general, have paid this film a lot of attention and generated a lot of buzz. The most often asked question is if "Thunivu" performed well or poorly at the box office. In order to assess the movie's box office performance, we will be looking at its total earnings and budget in this report.
Preliminary business
According to reports, the film's satellite and digital distribution rights went for 20 crore (US$2.5 million) and 65 crore (US$8.1 million), respectively. Red Giant Movies purchased the Tamil Nadu theatrical rights for 60 crore (US$7.5 million), bringing the total amount of the film's international theatrical rights acquired to approximately 86.25 crore (US$11 million).

The theatre rights for Andhra Pradesh and Telangana were sold for a remarkably low amount of more than 3 crore (US$380,000) crores and Kerala and Karnataka were sold for more than 2.5 crore (US$310,000) and 3.6 crore (US$450,000), respectively. The Movie's Hindi dubbing rights were sold for Rs. 25 crore (US$3.1 million). Theatrical rights outside of India were sold for Rs. 14 Crore ($1.8 million).
All-Time Collection of Ajith Kumar's Flim Thunivu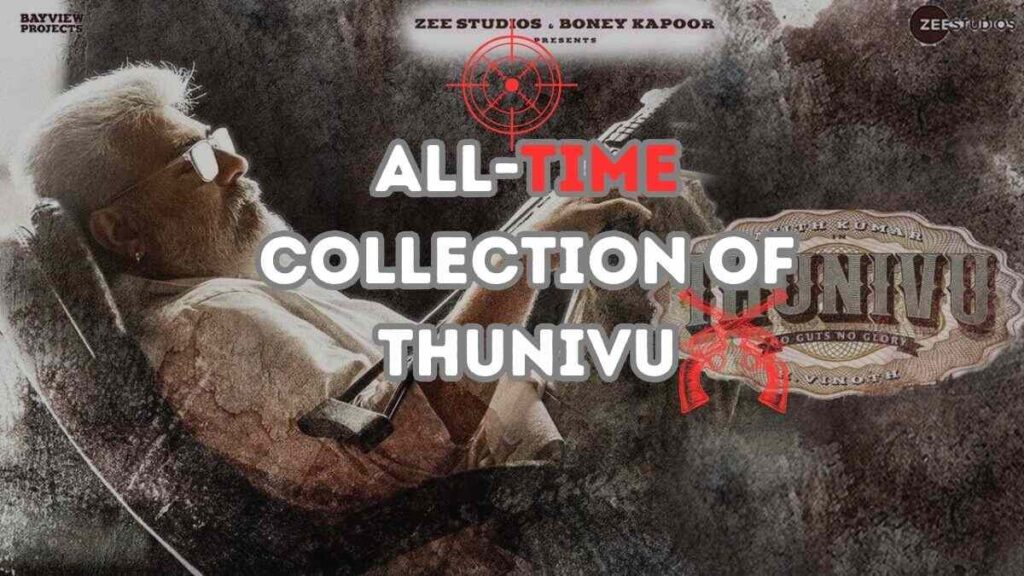 With Thalapathy Vijay's Varisu and Ajith Kumar's Thunivu competing against each other at the box office during Pongal 2023, we witnessed one of the biggest clashes in Kollywood history. Even though Ajith's movie did well for itself and was a commercial success, Vijay's movie ultimately came out on top. Let's now examine its complete collection from throughout the globe.

This action film is directed by H. Vinoth and features Manju Warrier, Samuthirakani, and others. When the movie first aired, the reviews from critics were conflicting. However, it was favourably received by the general audience and ended up being his second-highest-grossing movie globally.
Thunivu had a respectable 200.57 crore worldwide box office gross, which is a gauge of a movie's financial success. It contains 144.07 crores in total but only 122.10 crores net (including Tamil and Telugu) from India. The movie surpassed the 50 Crore threshold with a worldwide gross of 56.50 Crores.
Distribution
Red Giant Movies purchased the film's Tamil Nadu distribution rights on a profit-sharing basis.The movie would also be co-distributed by Romeo Pictures, which handled all of Kapoor's Tamil film releases in the nation, including Valimai.

The film would be released through the following sub-distributors, with the exception of Sri Lanka, where the distributor would release it directly: Sarigama Cinemas (United States), Boleyn Cinemas (United Kingdom and Europe), Phars Film (Middle East), Malik Streams (Malaysia and Singapore), Vansan Movies (Australia and New Zealand), and York Cinemas (Canada). Dil Raju purchased the film's distribution rights for Andhra Pradesh and Telangana under the name Radha Krishna Entertainments and Ivy Productions.
THunivu on OTT Platform: Release Date, Where To Watch
'Thunivu' will make its Netflix debut on February 8th, 2023. It will also be offered in Telugu, Tamil, Malayalam, Kannada, and Hindi. When Thunivu was launched in theatres on January 11, 2023, it came up against well-known South Indian films. The movie brought somewhere between 170 and 180 crores despite stiff competition at the box office. Veera Simha Reddy by Nandamuri Balakrishna, Varisu by Vijay, and Waltair Veerayya by Chiranjeevi were also released during the Pongal week.
Casting and crafting
Along with Ajith Kumar, 'Thunivu' also has Manju Warrier, Samuthirakani, John Kokken, Mamathi Chari, Ajay, Veera, Bagavathi Perumal, Darshan, Pavani Reddy, Ciby, and Amir in pivotal parts. A mobster and his group get ready to heist one of Chennai's biggest privately held banks with the aid of an ACP. They plan to steal $500 million on May 21, which is the day of the governor's party celebration at his house.

With his line delivery and facial gestures as the thriller's anti-hero, Ajith Kumar does not disappoint. Manju Warrier keeps her role mysterious all the way to the finish. Manju Warrier's character is much more than just the love support for the male actor, in contrast to what the South Indian film industry is infamous for. Manju executes her action scenes flawlessly while dressed in the khaki military. Speaking about the supervillain, John Kokken's portrayal of the antagonist lacked the ferocity of evil and was therefore inadequate for the part.
FAQs About Thunivu
What is Thunivu's budget?
$200 billion.

How much was actor Ajith paid for "Thunivu"?
Ajith Kumar reportedly made between 60 and 70 crores for "Thunivu."

Is Thunivu a hit or a flop movie?
Based on how well it performed at the global box office, Thunivu is recognised as a success. Thunivu had the potential to surpass Viswasam as Ajith Kumar's highest-grossing film, but it fell just short as Viswasam earned 205 Crores at the box office.

Is Thunivu a remake of a money heist?
The first few minutes of "Thunivu" give you the uneasy impression that the movie is a parody of the well-liked Netflix series "Money Heist." Even though the movie is about a break-in, you quickly learn that the goals and the plot are very different.

How many languages are there of Thunivu available?
Netflix will start streaming "Thunivu" on February 8. Tamil, Telugu, Malayalam, Kannada, and Hindi are the five languages in which the movie will be streamed. The action heist movie "Thunivu" is written and directed by H. Vinoth.

Also Read About